Odysseus
<![if !vml]>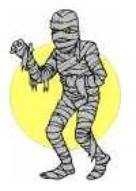 <![endif]>Odysseus is the former DM of the Sands of Time game, which was set in an ancient Egyptian style world.† His players often remarked on just how accurately he managed to convey the world of ancient Egypt down to the very smallest detail.† They also remarked on his peculiar odour.† And both of these factors are easily explained: Odysseus is a mummy Ė one of the greater undead.
Born in 1979 (BC), Odysseus was once regarded as the best dressed man on the fashionable west bank, of the Nile.† Not simply attractive, also well spoken.† And not only well liked, also powerful and wealthy.† But then he died, and that pretty much ruined his day, and every subsequent day for the next three and half thousand years.
Odysseusís tomb was eventually rediscovered towards the end of the eighteenth century by a multi-classed Necromancer / Avon Lady, who used her powers to raise the dead so she could sell them her exciting new range of moisturisers designed especially for extremely dry skin.† Revitalised with an easy absorption formula containing a hint of jojoba and the Colonelís secret blend of 11 herbs and spices (one of which is pepper), he emerged from his tomb to find that Egypt was no longer the social whirl it was before the rise of the Roman Empire and that mouldering grave wraps had gone completely out of style.
Leaving Africa by camel, bound for Europe, Odysseus wandered as far as Transylvania in the shadow of the Carpathian Mountains.† There he met Bram Stoker, a famous biographer of the undead, who had just finished ghost-writing Dracula : I Suck for the Prince of Darkness and was looking for a new subject.† He and Odysseus worked together and produced the novel The Mummy, based on Odysseusís unlife experience, although Stoker later tried to set fire to his writing partner in a bout of rage and cheated him out of the royalties.
Odysseus, and his tomb, have been relocated to one of the many tall towers of the Epic Adventures castle.† His first choice was the cellar, but having the mummy next to the dragon was decided to be an unreasonable fire hazard. †Plus he does smell vaguely of tea tree extract which is a well known dragon aphrodisiac.† Odysseusís voice sounds like the rustling of leaves or the falling of dust over eons, it is the crackle of the grave: the rasping of the damned, and in 2001 he filled-in for Bob Dylan on three dates of his European tour.
<![if !supportEmptyParas]> <![endif]>
[Main] [Players] [Groups] [Forum] [Tomb] [Tools] [Links] [Contact the Imp]